Other Testimonials
Chas Spencer: Off-roading in Croatia
I would have no hesitation in recommending Julian to do work on your Landcruiser, I have always found him to be very knowledgeable and friendly.
It is worth it for my peace of mind (I had a bad experience with a local mechanic) to drive from London to Hereford and get him to service my Landcruiser, he prepared it for an off-roading trip to Croatia last July and the car never missed a beat (apart from when I hit a hidden rock and bent the steering) but I can't blame Julian for that! He built a very useful drawer system in the back for me.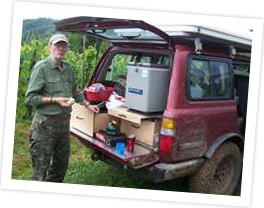 He will also be preparing it for a trip to Morocco in April, plus any other work that might need doing.